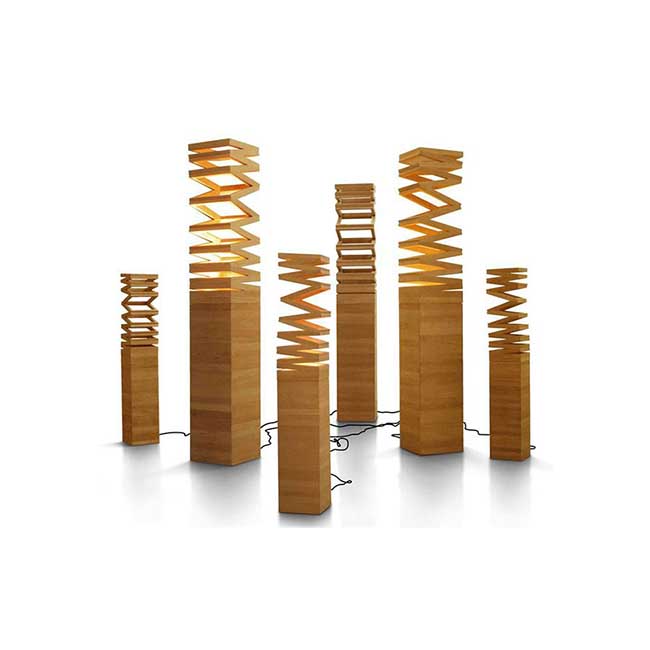 Eco Friendly Floor Lamp Teak wood
Sold per unit
Made teak wood
Handmade
Import from Thailand
120 V
Height: 63"
Eco Friendly Floor Lamp Teak Wood will bring beauty and functionality to any indoor an outdoor  space, making it a beautiful place for home, hotel or more!
Eco Friendly Floor lamp Teak Wood that goes straight in our section dedicated to the lighting design. Created to reuse small pieces of wood, scrap and waste resulting from large scale production.
Furthermore, this design is a real sculpture, innovative and sophisticated, inspired by the shapes of fireplaces. Simple lines, stacking of layers that decorate the environment, generating light rays that fascinate and give a unique and charming atmosphere.
Made in teak wood, impeccable finish, smooth and beautiful, the light emanating from this standing lamp filters through the spaces of the cylinder projecting magical effect.
In addition, the space would not be complete without these elegant floor lamps, these fully flexible, functional and modern frames allow you to have an element that provides beauty, versatility, durability with fantastic lighting effects. It provides a sense of balance, whether in the pool, in the garden, in a patio or terrace, room, library, etc., submerging yourself in a relaxing retreat while enhancing your property.
Floor Lamp works well with a variety of interior design schemes such as urban, contemporary, mid century modern, minimalist, traditional, and industrial styles.
Besides, Eco Floor Lamp gives off warm, beautiful light that will create a cozy, comfortable, and well-lit space for any room in your home or office. Teak wood furniture is an excellent choice for luxury resorts, hotels, golf courses, community recreation centers, tourist destinations, wineries & more! Handmade in Thailand.
Since Floor Lamp are such a versatile structure, having one in your own house can be a worthwhile investment, in addition to the lifestyle benefits they afford.
SATISFACTION GUARANTEED!!!!  Buy Now