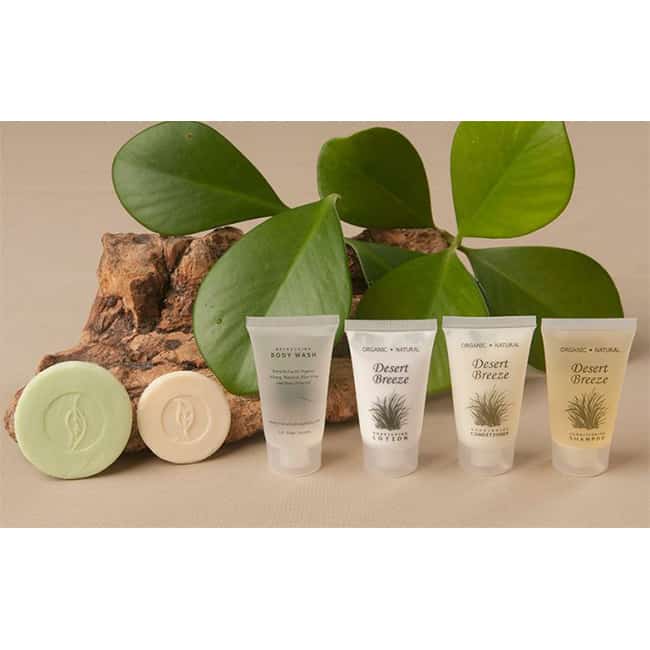 Desert Breeze Hand and Body Wash
Natural and Palm Oil Base
Made with olive oil, organic honey and pure aloe vera
Botanical Fragrance
1.1 oz in each bottle
Each unit has 12 individual bottles
Each case has 200 individual bottles
No Animal Testing
Impress your guests with this earth conscious Desert Breeze Hand and Body Wash!
Made with natural and organic ingredients and a light botanical fragrance, the Desert Breeze Hand and Body Wash is a great choice.
Furthermore, we are dedicated to using only the highest quality ingredients. Made with actual olive oil and  organic honey and pure aloe  our salon-quality formulations are top-notch.
Subsequently, made with a natural olive oil and palm oil base, the fresh citrus body bars and cleansing bars enrich users with soothing aloe and other organic ingredients.
Additionally, we package using recycled paper boxes and bottles. We print with soy-based ink! Being eco-friendly is very important to us, and all of our products reflect that decision.
       As a result, it leaves your skin, hair, and hair softer and brighter. Natural ingredients help increase the health and beauty of the body. In fact, ideally designed and packaged for use in Hotel, VACATION RENTAL             Motel, Bed and Breakfast, Guest Room, and more to provide GREAT LOOKING hospitality service.
      Contains 300 individual TRAVEL SIZE Bar Soaps packaged in SACHET WRAP. Enriched with ORGANIC HONEY and Aloe Vera with a LUXURIOUS look to magnify the quality of the guest experience; for single  use to easily prepare for the next guest.
Finally, the Desert Breeze line of amenities brings a tasteful and welcoming atmosphere to each room!