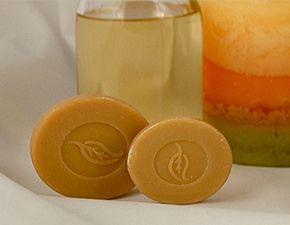 ProNature Body Bar
Made with aloe vera extract, honey, and olive oil
Organic Recycled Biodegradable Packaging
Leaves Skin feeling Smooth and Suave
.75 oz per soap bar
Comes in units of 12 soap bars
The cases contain 350 soap bars
No animal testing
The organic ProNature Body Bar is an excellent eco-friendly option!
The ProNature Body Bar celebrates nature through pure ingredients. We package using recycled paper boxes and bottles. We also print using soy-based ink!
Anyone and everyone who uses this body bar will feel clean and smell excellent instantly! Users love how efficient and effective this body bar is at sanitizing and cleaning! Their skin will feel velvety smooth, and smell like heaven!
Whether someone uses this in the shower or on the go, they will certainly love it every single time! The scent it leaves behind enchants and amazes everyone who encounters it!
Additionally, ProNature uses Organic olive oil to soothe and soften all. We use an organic aloe vera extract to gracefully tone its users. It also helps regenerate and freshen skin!
Furthermore, we don't test on animals. This is due to our EcoWell dedication! We firmly believe animal testing is cruel and unnecessary, and hope that it ends soon.
Any and all consumers can rest assured that we are doing our best in providing a quality product.
Consequently, ProNature Body Bar is one of the most environmentally friendly products offered today! Don't delay another minute, buy some now!