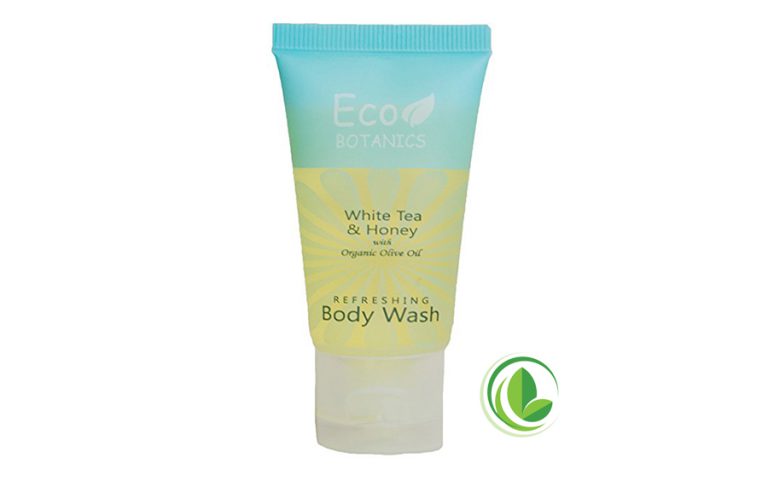 Eco Botanics Body Wash
Natural and Palm Oil Base
Made with white tea, olive oil, organic honey and chamomile
Chamomile and honey infused Fragrance
1.1 oz in each bottle
Each unit has 12 individual bottles
Each case has 200 individual bottles
No Animal Testing
The Eco Botanics Body Wash is an excellent organic addition to any room!
Enriched with Organic olive oil, the Eco Botanics Body Wash features salon quality formulations that are gently comforting on skin and hair!
Furthermore, our moisturizing products have nothing but the most organic of ingredients! A refreshing chamomile and honey fragrance that will tantalize your guests or family.
Additionally, the shampoo, conditioner, lotion, and body wash include soothing white tea and nourishing honey. All of these products are high-quality hits!
       Also, both the body and cleansing bars have a natural olive and palm oil base, enriched with soothing aloe.
In Fact, All of our lines were created with the environment and well-being of consumers as a top priority. The superior formulations and exquisite design of  pure bath  set exemplify quality. In addition, infused in      organic aloe vera, honey and olive oil and 100% free paraben and gluten Free. Helps prevent hair loss and leaves it shiny and nourished.
Improves your skin, leaving it soft and radiant.
 Subsequently, Eco Botanics has an EcoWell commitment! It is a perfect earth-conscious and affordable choice for hotels and resorts in any locale!