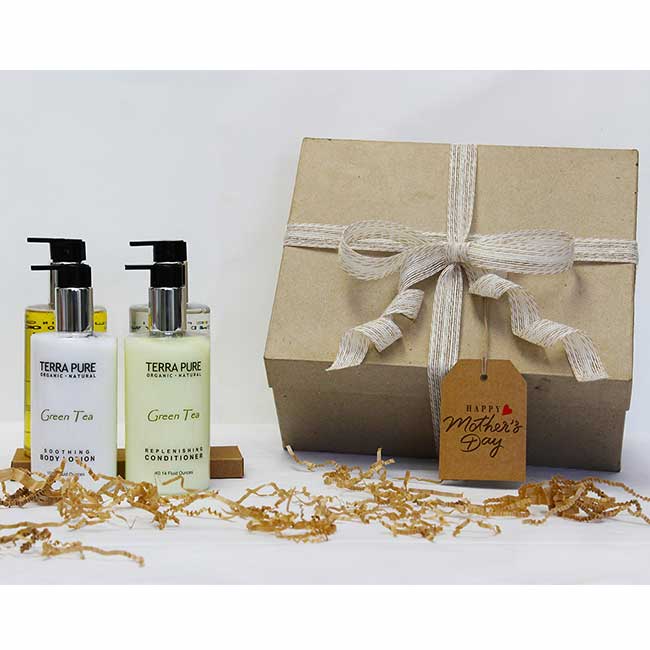 1×4 Terra Pure Green Tea Retail Pump Full Set
Special Sales: Mother's Day. Free Shipping!
Comes with:

1 10.14 oz. bottle of body wash
1 10.14 oz. bottle of lotion
1 10.14 oz. bottle of shampoo
1 10.14 oz. bottle of conditioner

Made with organic olive oil, aloe vera, and pure honey
Leaves skin feeling comfortable and satin smooth
Made with recycled biodegradable packaging
Our Terra Pure Green Tea Retail Pump Full Set is a special offer!
Made with pure ingredients and packaged using recycled paper and 100% soy based ink, Terra Pure Green Tea Retail Pump Full Set is one of the most environmentally friendly amenity products available today.
This eco-case comes with a larger amount of lotion (10.14 ounces), perfect for retailers or individuals who don't care for the smaller sizes.
Furthermore, this body lotion doesn't have annoying chemical fragrances, colors, or preservatives. We emphasize natural and organic materials, and this product embodies that ideal. Guests come back wanting more and more every single time, no amount is truly sufficient!
Additionally, Organic aloe, honey, and olive oil are in each bottle. Also, both the body and cleansing bars have a natural olive and palm oil base, enriched with soothing aloe. As a result, the skin feels refreshed after every use!
This beautiful gift represents love to nature and to our loved ones.
The superior formulations and exquisite design of Terra Pure Green Tea exemplify quality.